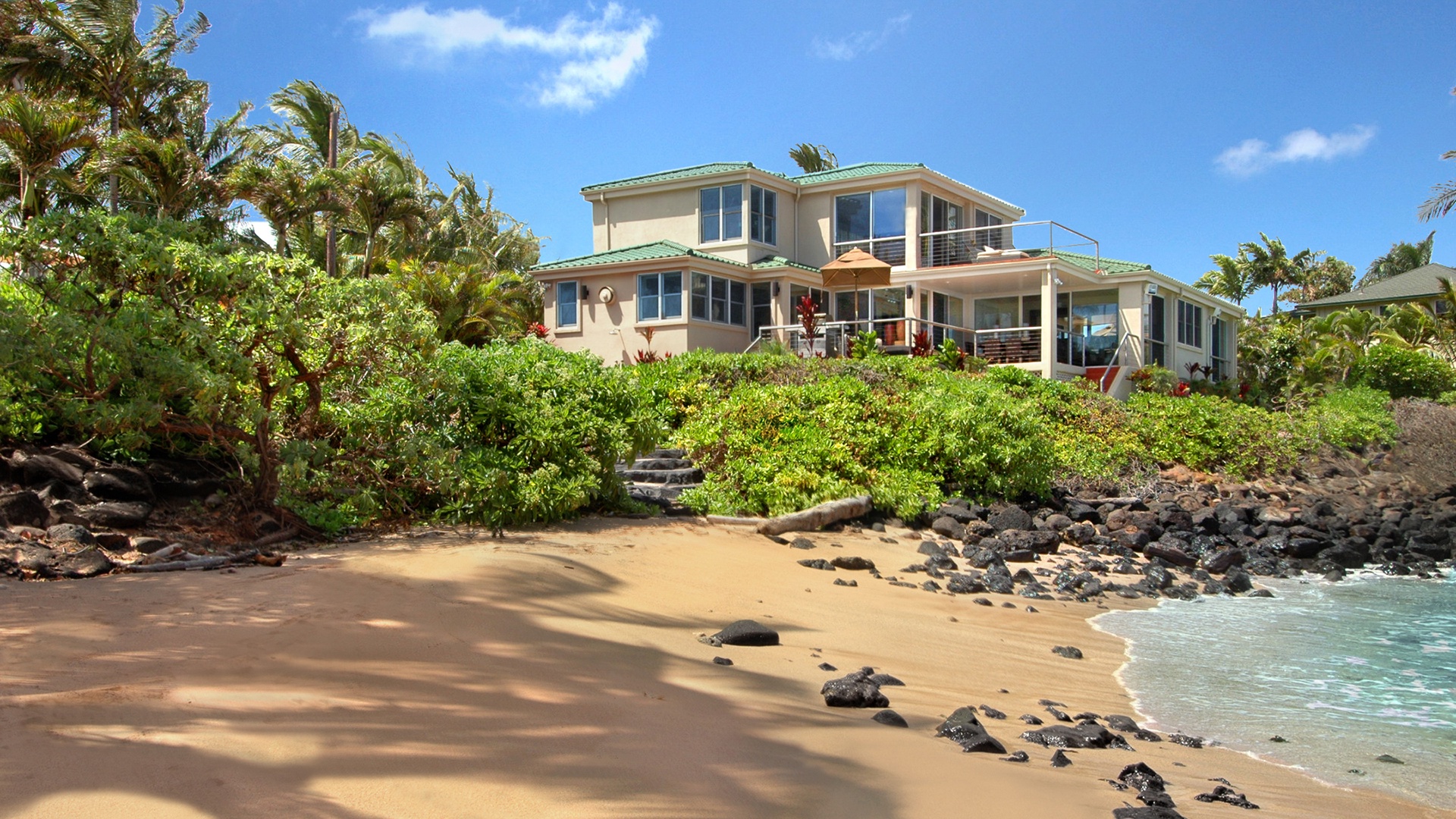 Sandy Beach House
4432 Lawai Road , Koloa, HI 96756
Picked by Islands Magazine as one of the top villas in the world, this spectacular home from our Kauai oceanfront rentals enjoys a private oceanfront location on a secluded beach. Sandy Beach House is bright, airy and the ocean is visible from almost every room in the residence. A waterman's paradise, on calm days experienced swimmers can utilize the ocean access right off the beach. Those looking to unwind can just relax poolside and watch the turtles and colorful sunsets in one of Kauai's premier oceanfront locations.

The Parrish Collection is a locally owned and based real estate management company that specializes in vacation rentals on Kauai and Maui. Our collections of rentals are professionally managed by in-house staff with a commitment to personalized service, fine attention to detail and a true sense of Aloha. Our team looks forward to hosting you soon.

HOME FEATURES

• Beachfront, two-story floor plan, approximately 2,300 square feet
• Beachfront swimming pool and spa
• AC - Bedrooms only
• Interior Rating: Deluxe
• 3 bedrooms, 2 bathrooms
• Master Suite – private oceanfront lanai, second floor, king bed, flat screen TV, Blu-ray/DVD, AC, bath with tub & walk-in shower
• Second Bedroom – oceanfront, ground floor, king bed, flat screen TV, AC, shared full bath tub with walk-in shower
• Third Bedroom – oceanfront, two twin beds (convert to king), shared full bath tub with separate walk-in shower, AC
• Great room design: living room, dining room, kitchen, all with expansive ocean views
• Stainless steel appliances in oceanfront kitchen
• Oceanfront day room perfect for lounging
• Flat screen TV/Blu-ray/DVD/CD with HBO & Sports Channel Package, Pandora radio, Hulu, Netflix and AppleTV movies
• iPod ready, five zone music sound system (including the pool area)
• Spacious outdoor covered lanai
• Wireless high speed internet
• Outdoor gas BBQ
• One car garage and driveway parking
• Washer & dryer
• Private telephone
• Safe
• TA-131-570-2272-01
• GE-131-570-2272-01

• TVNC-1190
• This property is located in a Tsunami Evacuation Zone. For your safety, upon arrival, please review the evacuation plan and procedure provided in the Guest Compendium
Free Parking
Beach Essentials
Wireless Internet
Air Conditioning
Dryer
Garden or Backyard
Jacuzzi
Pool
Ocean Front
Ocean View
Water View
Washer
Water Front
Heated Pool
Hot Tub
Private Pool
Ground Floor Entry
Two Level Floor Plan
Thank you for submitting your review. It will be processed shortly!
We had a great experience with Parrish and the property on Kauai. Prompt communication, easy check in and the property was read right at check in. Also, a beautiful home.
The property is simply amazing. Everything was great!
When looking for a vacation rental in Hawaii, look no further than Parrish. They have amazing properties, excellent and friendly staff and the entire process is completely wonderful. We had a recent stay and are coming back in November. I will always book my vacations with Parrish when coming to Kauai or Maui.
Thundering beachfront
This is a wonderful property that features, a calm pool, and a thunderous beachfront. The turtles come up every night the waves and sunshine every day it is well taken care of, and everything worked.
The Parrish Collection was great. We stayed at the amazing Sandy Beach House. The house was extremely clean and the staff was helpful with every thing we needed. We are already planning our return trip.
Best Location!
Wonderful vacation with great friends! We hope to return one day! Easy check in and check out process. House was fabulous!
Mahalo Misty for your 5-star review and comments. Glad to hear that you had a great stay. We look forward to hosting you again soon. Aloha!
Alex, Los Angeles, CA says
This house on the water in Kauai is a pretty nice spot! The listing photos are accurate, and I expect any family/couple staying will have a very nice stay. You can find reviews for this spot on other platforms, it appears to be recently listed on AirBnB but has been booked on other websites before, and those reviews are helpful. Here are some notes: - It's in a touristy but beautiful spot of Kauai off of a small road that is frequented by families in cars to go see a local tourist attraction. It's not especially busy/crowded and felt peaceful. - The ocean is louder than I expected, because it isn\'t a very protected cove. The surf is rough so most people probably won't want to go swimming in the ocean, but there's a more protected area 5 minutes walking away. - The pool, jacuzzi, and outdoor furniture were all clean and well-maintained. - The management company wasn't very responsive. I actually don't think I ever got a single response to a text message (replying to the number they sent from) but I didn't have any big issues so it was fine. Check-in was confusing because they sent incorrect instructions, I think because this is a new listing to AirBnB... they'll probably work out those kinks. - There were some critters: lots of geckos, chickens, a mouse, etc... mostly outdoors 🙂 - The stars are beautiful on a nice night: try turning off the jacuzzi/pool lights to see them more clearly. - There are grocery stores and restaurants nearby. Highly recommend Kalaheo Cafe & Coffee Company for breakfast/brunch or lunch. - They kitchen is well-stocked with cooking utensils, and the BBQ had propane (barely - it was almost out, so be sure to check when you arrive if you plan to use). - The A/C in the bedrooms is good enough to keep them cool, but it gets a bit warm in summer in the living areas. While staying in Kauai I highly recommend going for long hikes if you're outdoorsy, especially on the west side of the island, which this AirBnB provides convenient access to.
The location is fabulous - maybe the best on Kauai.
The house is well laid out and the grounds and pool were well maintained. The pool furniture and the outdoor furniture on the decks were worn and dirty. No A/C in two of the bedrooms. The A/C was repaired after three nights and worked well for the remaining three nights. The dishwasher leaked. It was not repaired during our stay. We had to hand wash everything. Reservations was very accommodating. The website worked well. The Ts&Cs were clearly stated in the reservation and rental agreement. The service and responsiveness of Jaime was incredible.
Mahalo Ray for your five-star review and feedback. Our apologies for the trouble with the air conditioning at the beginning of your stay, but are glad we were able to have the technician get the part and have it repaired during your stay. The dishwasher is being replaced and we apologize for the inconvenience of having to hand wash dishes on your vacation. We appreciate your patience and understanding. Mahalo again for your feedback and we look forward to hosting you again soon! A hui hou.
The turtles!
Dao, gave us excellent service and really went the extra mile. Also the housekeepers did an excellent job cleaning and providing extra towels! Very nice people.
Location, location, location.
We love the semi-private beach and having sea turtles and monk seals come on the beach to visit. Christie Volkmer was a fantastic island host. She was very responsive when we reported issues. Water was leaking from the freezer. Also, about 3 a.m. one morning, we were awakened by a beeping that sounded like a weak smoke alarm battery or alarm system (door being opened). We went through the entire house and walked outside to check. Some of the motion sensor lights were on, but we didn't see anything. The sound occurred only once. The entertainment remote needs to be serviced. The remote worked, but sporadically (possibly clean the contacts or replace them). This property was shown as a premier property; however, with the current condition (much could be improved with updates) I think is more of a deluxe property rather than premier.
Mahalo Robert & Tina for your review and comments. We will check on the freezer, alarm and remotes to ensure all is in working order. Please note the owner is planning on some refurbishment over the next few months so we will be sure to keep things a Premier. We look forward to hosting you again soon. Aloha and a hui hou.
We simply love the sandy beach house
the location, with it's own basically private beach, is unbeatable.
Oasis in paradise
So, we were extremely fortunate to stay at this incredible house. As they say in real estate, "location, location, location". This home is a fantastic, private base from which to enjoy the island of Kauai. We were a group of 5 and had plenty of space in the house. The home is a destination all by itself, and apparently the rate includes daily visits from several large honu (turtles) bobbing in the surf and lounging on the beach. No monk seals, sadly, but lots of turtles. You can see the water from everyplace in the house except the downstairs bathroom and garage. Each of the three bedrooms are air conditioned, and boy that was nice after a day in the hot sun. There were ceiling fans in the LR, Kitchen, and family room that helped circulate the air with windows and doors open. Kitchen was fully stocked, and the TV, once you figured it out, was good. We were able to hook up to SONOS to play music throughout the house and pool area which was great. My favorite room was off the living room, with 180 degree view of the water. The garage was good to have, as was the on site laundry to stay ahead of the towels and clean up after an active day. The pool area was peaceful and comfortable. As far as the location, you can walk up to the Spouting Horn and the vendors, and just a short drive from two shopping areas with plenty of options for restaurants and shopping. If you stay here, find the Anuenue Cafe for breakfast up the street, AMAZING. Old Koloa Town is a few miles away (you will pass it on the way in) and that is a fun area to spend some time (and money). The island is easy to navigate, and you can choose to be adventurous or homebodies and this is a perfect house for that. We had a couple of issues while there, and the management company was easy to reach and attentive. We arrived late and were not met by anyone to show us around, and that may have been why we struggled to figure out some of the technology. We had asked for a couple of things, and they were forgotten/overlooked, but honestly, how can you be upset in a house like this. This house is incredible, and if we get back to Kauai, we would stay here again, no question!
We loved the Sandy Beach House
Lisa -- thank you for getting feather pillows for us Chris -- thank you for meeting us at the house -- doing the walk through, and also arranging for us to see the Sunset Makai house. Your staff is warm and welcoming -- in addition to being knowledgeable and helpful. The Sandy Beach House is something rather special -- we loved everything about it, and hope to rent it again in the future.
Mahalo Priscilla for your review and comments. We look forward to hosting you again soon. Aloha
The little private beach, and ease of access to the sand and ocean right there.
Natalie (our island host) was terrific. Very responsive, and did a perfect job of following our rather picky shopping list and getting exactly what we asked for. She made our stay very painless. The only reason I won't stay with you again if it the house we like is not available during the times we can travel to Kauai. Assuming Sandy Beach House, Villa Kailani, or one of the other comparable houses is available, then we'd definitely stay with Parrish again. Very minor problems, really didn't bother us at all. the front door of the house wouldn't lock from the inside, due to a broken piece of the lock, and a couple of the shade pulls weren't attached any more, making lowering/raising those particular shades challenging. Converting the outside speaker system from Airplay via the Apple TV to Sonos was my only suggestion last time, and between our April trip and this one that's been done, so now I'm really at a loss. Maybe add a waterproof removable cover for the lounge chair on the master bedroom balcony, as that did get waterlogged a few days? But I'm really reaching here.
Already booked next year!
Paradise
My husband and I rented this property for two weeks at the end of 2015. This was our third stay on the beautiful island of Kauai and our third time renting a home through the Parrish Collection there. We love Kauai -- the island atmosphere is serene and relaxed -- the landscape lush and the ocean views to die for. This house was perfection -- the property itself was well maintained and comfortable -- the pool and hot tub with the view of the ocean was incredible. The weather was unusually warm during our stay -- so the air conditioned bedrooms were a welcome refuge at the end of the day. We hired a private chef to cook for us on two evenings -- he did a wonderful and memorable job. The property is close to many restaurants and right across the street from the local botanical gardens. We enjoyed this property very much and would highly recommend it.
So great!
The location, the design and the private pool. no, it was the master bedroom that i liked the best, especially the huge windows and the lanai with the enormous round lounge chair/bed. we loved it. also it's a pleasure to cook in that kitchen with the sound of the surf and the views of the ocean. and the way you organized the information about the house was nicely done. very useful and user friendly. All Parrish staff we spoke to in the course of our stay were helpful and professional. Natalie, she's a good communicator, friendly and conscientious. She called twice to check in and see if we needed anything.
Fantastic house & views
Group consisted of my husband, 2 daughters ages 22 & 25, daughter's friend age 22 & future son-n-law age 27. We all gasped when we entered the home, because of the amazing view. It was great to have our own pool. Loved exploring the tide pools at the house & down the shore to the Spouting Horn. Sitting on the upper lanai was great for star gazing. Great location to the beaches and directly across the street from the Botanical Gardens which were very interesting.
Amazing place
The Sandy Beach House is everything the pictures show and more. We had a spectacular time here. The beach is small but good for sand castles, wading and looking in tide pools, and just general relaxation. The location right at the end of the road by Spouting Horn means that there's enormous privacy. There's the occasional tour bus heading to Spouting Horn during the day, but at night it's very peaceful. While we didn't see any dolphins this trip, we did see turtles just off the rocks, lots of shooting stars at night, and even a couple of whales that popped up to say goodbye on our last morning. Highly recommended!
Excellent!
Sandy Beach House offers a perfect location near kukuiula and poipu, its own pool and sandy beach (semi-private), nice house with efficient flow, etc. House well supplied with cooking tools, plates, etc. We really enjoyed having groceries pre-delivered, also pitcher of mai tai! Some electronics were finicky but we managed. Outfitters Kauai zipline was great. Salt pond was a great discovery. A visit by monk seal on our beach -- our favorite.
Perfection!
Our family stayed at the Sandy Beach House in June 2011 so this review is long past due. It's no wonder it was rated Villa of the year in 2010… unbelievable home! Amazing ocean views, private beach, tide pools, swimming pool, privacy in a beautiful and comfortable home with designer touches throughout in a quiet location, I've never stayed in a vacation rental this wonderful. I have lived in Hawaii and have visited all of the islands numerous times but this is by far my favorite spot in all of the islands, I didn't want to leave. If you can afford it and can get a reservation go… it's worth every penny.
Return visit even better
We just returned from our third stay at SBH. They remodeled the master bath !! It is so much improved. Love the tub. The shower is so much better. The audiovisual system is also improved. This was a magical property last year and it is just getting better and better each year. And what can I say about Kristi and the Parrish team..they are consumate professionals.
The perfect vacation spot ever!
My husband and I stayed at the Sandy Beach House last week and we had the most amazing time. The master bath has recently been remodeled and it was so beautiful and felt like a spa. The view from the tub is breathtaking. I had reservations about renting this house because the pool was not heated but the Parrish Collection insisted that it would be warm enough. It ended up being the perfect warm temperature and we were in the pool day and night. It also has a great hot tub and outdoor shower. There is an ocean view from every room. The beach was not really swimmable but it didn't matter because we still sunned on the beach and explored the many tide pools. There were many seals and turtles to watch as well. I am a chef and I enjoyed the well stocked kitchen. Quality equipment and a great BBQ. The sound system is outstanding and we had our IPod going outdoors as we swimmed and sunned. We enjoyed all the different outdoor areas to take in the views. The house is very private and in a quiet area. Just across the street is the Botanical Gardens which was beautiful to see. We will be back again to the Sandy Beach House for sure.
Perfection!
Everything about this trip was more than I could ask for. The house and location are amazing. Everyone I show the picture to simply swoons. And Kristi and Joanne were beyond helpful in everything from booking tours and meals to simply advice on where to go and what to do. There was nothing about this in which I was disappointed. I'll be back next year!
It was absolute serenity
This was a honeymoon splurge for us, and after our experience, we plan to find a way to splurge again. The home was impeccable, the location can't be beat, and the service from Parrish is unmatched by any hotel in which we've stayed…We spent hours on our lanai and private beach reading (dozing), watching sea turtles, and just listening to the waves. We had every amenity we needed, and when we wanted to go out, it was all a short drive down the road…This home was comfortable, private, appointed -- it was just what we needed!
Wonderful
Best location in Kauai. You can spend your whole vacation right there -- no need to go anywhere else. Absolutely top-notch!
A destination that stands alone in paradise.
We have stayed here before and really enjoyed the air-conditioning improvement as well as the living room/bedroom updates this time.Also, the switch to Parrish has resulted in a much, much,much better experience for the guest.Sometimes when you rent a private home you do not get the level of service that you get at a quality hotel but not so here. The Parrish staff were extremely attentive but respectful of privacy. (We came here directly from a five day stay at the Trump International so we were used to high level service). The pool and spa are incomparable. The small beach and rock coast on property are an endless source of fun. The kitchen was well equipped and the dining spaces, indoor and outdoor, were so pleasing and relaxing. The safe in the bedrooms functioned well. The TV remote was all messed up but the last thing even my 13 year old wanted to do in a magical place like this house was watch TV. We played Iz on the outdoor stereo system and were living the Hawaii dream at the oceanside pool. My family would come here every summer if it were feasible. My only suggestion would be a remodel of the master bath to bring it to the quality of the rest of the house…but it still is a very nice large bathroom with a spa tub. If you are going to spend the time and money to go to Kauai why not spend a little more and experience something special at Sandy Beach House. Just don't reserve it when we want it.
Amazing!!
This home is absolutely beautiful and the location could not be better. If you never left the property you would still feel like you had an amazing Kauai vaction. The sevice from The Parrish Collection team was outstanding. They were extremely attentive and responsive. I just can't say enough!
Fabulous House, Great Location
Our family of 4 stayed in this home for 7 days. We found it very comfortable and accommodating to all our needs. The home looked better in real life than in the photos which is not always the case. It is located on a quiet street, near Spouting Horn. There is construction along the other side of the street but we didn't feel like it was distracting or offensive. The home is tastefully appointed, with everything you need; state of the art electronics, wifi, gourmet kitchen, laundry, 2 lanais, pool, spa and beach. Location is close to several good restaurants, but we chose to eat in many nights and enjoy the view from the lanai, which occasionally included a manta ray coming into the lighted cove. During the day,there are many sea turtles, an occasional seal, and during out stay, breeching whales on the horizon. The tide pools held many different sea creatures from jelly fish to shrimp. Snorkeling was just a short walk away with a variety of fish to see. The Parrish Collection helped us with everything we needed to know; where to go, what to see, and how to get around the island. A rental car is a must here. This is a great vacation home that we will revisit.
Incredible Home- Be ready to relax
We had a wonderful time in this incredible home- The location, the house and the island of Kauai made for one of the best trips to the islands- We have been coming to Kauai for many years and this was the best trip to date-I think about this place everyday and keep a little of the magic with me- We will be back to stay at Sandy Beach House- The folks at the Parrish Collection were so helpful and the service was incredible- Only disapointment -we couldn't stay longer!
December 2023

| S | M | T | W | T | F | S |
| --- | --- | --- | --- | --- | --- | --- |
| | | | | | 01 | 02 |
| 03 | 04 | 05 | 06 | 07 | 08 | 09 |
| 10 | 11 | 12 | 13 | 14 | 15 | 16 |
| 17 | 18 | 19 | 20 | 21 | 22 | 23 |
| 24 | 25 | 26 | 27 | 28 | 29 | 30 |
| 31 | | | | | | |
January 2024

| S | M | T | W | T | F | S |
| --- | --- | --- | --- | --- | --- | --- |
| | 01 | 02 | 03 | 04 | 05 | 06 |
| 07 | 08 | 09 | 10 | 11 | 12 | 13 |
| 14 | 15 | 16 | 17 | 18 | 19 | 20 |
| 21 | 22 | 23 | 24 | 25 | 26 | 27 |
| 28 | 29 | 30 | 31 | | | |
February 2024

| S | M | T | W | T | F | S |
| --- | --- | --- | --- | --- | --- | --- |
| | | | | 01 | 02 | 03 |
| 04 | 05 | 06 | 07 | 08 | 09 | 10 |
| 11 | 12 | 13 | 14 | 15 | 16 | 17 |
| 18 | 19 | 20 | 21 | 22 | 23 | 24 |
| 25 | 26 | 27 | 28 | 29 | | |
March 2024

| S | M | T | W | T | F | S |
| --- | --- | --- | --- | --- | --- | --- |
| | | | | | 01 | 02 |
| 03 | 04 | 05 | 06 | 07 | 08 | 09 |
| 10 | 11 | 12 | 13 | 14 | 15 | 16 |
| 17 | 18 | 19 | 20 | 21 | 22 | 23 |
| 24 | 25 | 26 | 27 | 28 | 29 | 30 |
| 31 | | | | | | |
April 2024

| S | M | T | W | T | F | S |
| --- | --- | --- | --- | --- | --- | --- |
| | 01 | 02 | 03 | 04 | 05 | 06 |
| 07 | 08 | 09 | 10 | 11 | 12 | 13 |
| 14 | 15 | 16 | 17 | 18 | 19 | 20 |
| 21 | 22 | 23 | 24 | 25 | 26 | 27 |
| 28 | 29 | 30 | | | | |
May 2024

| S | M | T | W | T | F | S |
| --- | --- | --- | --- | --- | --- | --- |
| | | | 01 | 02 | 03 | 04 |
| 05 | 06 | 07 | 08 | 09 | 10 | 11 |
| 12 | 13 | 14 | 15 | 16 | 17 | 18 |
| 19 | 20 | 21 | 22 | 23 | 24 | 25 |
| 26 | 27 | 28 | 29 | 30 | 31 | |
June 2024
S
M
T
W
T
F
S
01
02

$1850

03

$1850

04

$1850

05

$1850

06

$1850

07

$1850

08

$1850

09

$1850

10

$1850

11

$1850

12

$1850

13
14
15
16
17
18
19

$1850

20

$1850

21
22
23
24
25
26
27
28
29
30

$1850
July 2024
S
M
T
W
T
F
S
01

$1850

02
03
04
05
06
07
08
09
10
11

$1850

12

$1850

13

$1850

14

$1850

15

$1850

16

$1850

17

$1850

18

$1850

19

$1850

20

$1850

21

$1850

22

$1850

23

$1850

24

$1850

25

$1850

26

$1850

27

$1850

28

$1850

29

$1850

30

$1850

31

$1850
August 2024
S
M
T
W
T
F
S
01

$1850

02

$1850

03

$1850

04

$1850

05

$1850

06

$1850

07

$1850

08

$1850

09

$1850

10

$1850

11

$1850

12

$1850

13

$1850

14

$1850

15

$1850

16

$1850

17

$1850

18

$1850

19

$1850

20

$1850

21

$1850

22

$1850

23

$1850

24

$1850

25

$1850

26

$1850

27

$1850

28

$1850

29

$1850

30

$1850

31

$1850
September 2024
S
M
T
W
T
F
S
01

$1850

02

$1850

03

$1850

04

$1850

05

$1850

06

$1850

07

$1850

08

$1850

09

$1850

10

$1850

11

$1850

12

$1850

13

$1850

14

$1850

15

$1850

16

$1850

17

$1850

18

$1850

19

$1850

20

$1850

21

$1850

22

$1850

23

$1850

24

$1850

25

$1850

26

$1850

27

$1850

28

$1850

29

$1850

30

$1850
October 2024
S
M
T
W
T
F
S
01

$1850

02

$1850

03

$1850

04

$1850

05

$1850

06

$1850

07

$1850

08
09
10
11
12
13
14
15
16
17
18
19
20
21
22
23
24
25
26
27
28

$1850

29

$1850

30

$1850

31

$1850
November 2024
S
M
T
W
T
F
S
01

$1850

02

$1850

03

$1850

04

$1850

05

$1850

06

$1850

07

$1850

08

$1850

09

$1850

10

$1850

11

$1850

12

$1850

13

$1850

14

$1850

15

$1850

16

$1850

17

$1850

18

$1850

19

$1850

20

$1850

21

$1850

22

$2050

23

$2050

24

$2050

25

$2050

26

$2050

27

$2050

28

$2050

29

$2050

30

$2050
December 2024
S
M
T
W
T
F
S
01

$1850

02

$1850

03

$1850

04

$1850

05

$1850

06
07
08
09
10
11
12
13
14
15
16
17
18
19
20
21
22
23
24
25
26
27
28
29
30
31
Available
Unavailable
Check-In Only
Check-Out Only